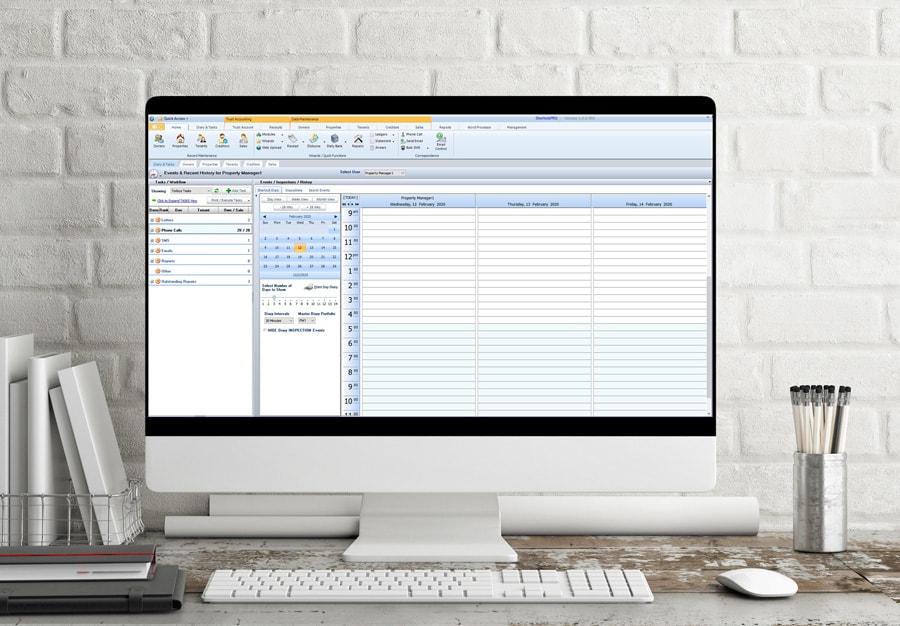 Book your SherlockPRO Upgrade
18 April
Agencies across Australia love SherlockPRO and the benefits for the upgrade have been widely received. Property managers are upgrading from Sherlock Trust Manager with a range of new features to improve their daily tasks. 
SherlockPRO is suitable for property portfolios of all sizes and offers a user friendly modern interface with features that will reduce manual processes and streamline daily workflows across your business. 
Implementation is easy and property managers can see the benefits instantly from a range of new features
Start your upgrade today and drop us a line at info@sherlock.com.au 
SherlockPRO has so many features to benefit you and your business
User Friendly interface
MULTI-TASKING
Ribbon menu technology makes navigating throughout the program a breeze allowing a user leave multiple tabs open at one time as increase the ability to multi-task on other jobs. If you have a new task, simply move to this section of the program without losing your work on the other tab. Our development team have ensure that you have easy access when working on several tasks at once which has been a great highlight for many property managers. In addition we have improved our advance searching filters to allow easy access to owners, properties, tenants and creditors.
Our Phone call screen is one of the best features providing a hot key to view all aspects of the owner or tenant in one screen providing over 15 tasks in one area without moving around the software.
DOCUMENT STORAGE
When upgrading to SherlockPRO, Archive HUB is essential to store documents and emails against properties, tenants, owners & creditors for easy viewing & retrieval. ArchiveHUB and Rentalz OnDemand (Owner, Tenant and creditor online portal) take your paperless office to the next level of End of month reporting and document retrieval for your owners viewing at their leisure.
Simple time saving processes
BARCODE SCANNING
Quickly scan and enter payments for Council Rates, Water Bills, Strata levies to reduce data entry errors while massively reducing resources. 
BULK BPAY
Save hours of time by paying Council Rates, Water Rates and Strata Invoices quickly, easily and accurately using the Bulk BPAY function. (All major banks supported)
SCHEDULE CHECKLIST TASK MANAGEMENT
Your Property Management checklists can now be entered into Sherlock PRO to automatically schedule due tasks into each user's day to day diary planner so no important tasks get missed.
FAST & SIMPLE END OF MONTH PROCESSING
End of Month process has never been easier with Sherlock PRO. The automatic process only takes a few minutes, so all staff down time is very minimal. In just a few clicks all the trust account reports, owner's statements, invoices, newsletter and bank payment file are completed and delivered.
Key Tracking Features
The key tracking system makes it easy for a user to check out/check in property key sets. You can add photos and multiple key set number to prove which set and how many keys left the office. A key movement report tracks returned and outstanding and not returned.
Better Communications
PHONE CALL LOG SYSTEM
The new phone call screen tracks all call communications with Owners, Tenants and Creditors.
Access/View all key information and history from one screen while on call.
EMAIL & SMS COMMUNICATION ENGINE
Sherlock PRO has an inbuilt email and SMS communication engine allowing agencies to set up standard email and SMS templates.  Emails & SMS can be sent by single or bulk delivery methods which are linked to your schedule checklists. All these communications are then automatically stored in Sherlock PRO for history purposes.
LETTER TEMPLATES SYSTEM
No more word in addition to your software, Sherlock PRO has a word processor built in the technology.
Create branded letters and email templates to standardise your business communication responses to Owners, Tenants and Creditors. A fantastic tool to reduce time and deliver consistency across all your business letters and emails responses.
IMPROVED REPORTING
OWNER STATEMENTS – SIMPLIFIED AND AGENCY BRANDED
The new simple to read owner statement layout with your agency branding and colours will not only impress your current clients but will definitely impress your prospective future clients as well. A great listing tool for point of difference as well as a landlord friendly layout will reduce time answering statement queries each month.
KPI & BUSINESS REPORTING
Advanced reporting engine with over fifty reports to analyse & review your business. Every report restyled as well as new reports like Lost & Gained Managements, Property Key Monitoring. New user level access to control which users can see individual reports
3RD PARTY INTEGRATIONS
PROPERTY UPLOADS TO MAJOR web PORTALS
Save time by uploading property information from SherlockPRO to real estate websites including Realestate.com.au, Domain, Rent.com.au, Real Estate View, EAC, Homely.com.au, Squiiz.com.au and Homesales.com.au. Add data once and deploy to many sites.
FORMS INTEGRATION
SherlockPRO integrates with third party providers including REI Forms and ADL Forms
FREE installation for all current Sherlock Trust Manager offices, our training and data conversion start from $499.00 depending on your office requirements. 
The benefits from upgrading to SherlockPRO include:
INCREASED PRODUCTIVITY
With new software come faster speeds. Get more done in less time.
IMPROVED COMMUNICATIONS
This upgrade enables you to communicate with clients and potential customers via Email and SMS. More flexible communication options means increased business potential.
ENHANCEMENTS
Features in the new SherlockPRO can provide the enhancements and functionality you need to gain a competitive advantage.
INTUITIVE USABILITY
SherlockPRO follows the same style of usability as Trust Manager, having similar controls and functionality makes the software intuitive and means that an upgrade such as SherlockPRO can be rolled out and staff will not require much training, if any, in order to use the software.
REDUCED COSTS
Upgrading to SherlockPRO will reduce your daily operating costs as our new features are designed to take hours off your manual processes.
BUSINESS GROWTH
SherlockPRO is suitable for property portfolios of any size, allowing your business to grow without having to upgrade or change software. When you grow, we grow with you.
Now available for Residential, Commerical, Sales and Holidays Management. 
Contact us today about upgrading to SherlockPRO and start benefiting from all these amazing features. 
For more information contact Phil 0418 441 304 or email sales@sherlock.com.au